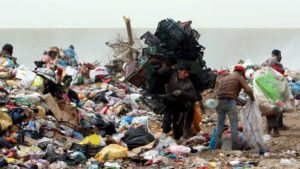 ERBIL, Kurdistan Region – For the first time since the Iraq War in 2003, the standard of living in the Kurdistan Region is "considerably" lower than the rest of Iraq, according to a fresh report by the World Food Programme (WFP).
The survey, conducted in May, shows that the previous two-digit growth has collapsed with the economy now facing around -6 percent shrinkage in 2016.
The economic growth in Kurdistan Region between 2007 and 2014 fluctuated around 7 percent to 10 percent but it stagnated after the double shock of the ISIS offensive and plummeting oil prices, coupled with economic sanctions from Iraq's central government.
The report was compiled in collaboration with the Offices of Statistics in Kurdistan and Iraq.
"The data show that people's purchasing power is considerably lower in Kurdistan's cities than that of people in Iraqi cities," said Sirwan Muhammad from the office of statistics in Erbil.
"The food purchasing power in Kurdish cities has shrunk by nearly half since 2014," he added.
Muhammad said that, although only a small percentage are below the poverty line in Kurdistan, the majority of people are just above the line and run the risk of falling below if the poor economic conditions continue for another year.
The Kurdistan Region, which is currently dealing with 1.8 million refugees and displaced families from war zones in Iraq and Syria, has struggled to offset its colossal deficit by selling oil independent of Baghdad.
Source: Rudaw Net, 31/8/2016
http://rudaw.net/english/kurdistan/31082016