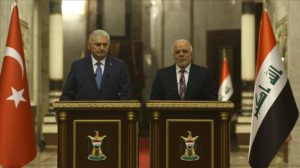 Turkish Prime Minister Binali Yildirim's visit to Iraq last week reflected both countries' desire to turn a new page in their bilateral relations, according to Iraqi politicians and academics.
"Yildirim's visit was critical to fostering trust between the two countries," Iraqi MP Abbas al-Bayati told Anadolu Agency.
With the Turkish PM's recent visit, Iraqi-Turkish relations "have turned a corner", he added, stressing both countries' desire to settle longstanding issues of contention through dialogue.
Al-Bayati went on to note that, once the Daesh terrorist group had been expunged from Iraq, Turkish firms would be invited to take part in Iraqi infrastructure projects.
"We look forward to the entry of Turkish companies into Iraq's domestic market," he said.
"Iraqis frequently visit Turkey for trade, tourism and to visit relatives," he added. "We would like to see this continue and are planning to make it easier for Turkish nationals to obtain visas."
Fikret Namik, for his part, a teacher at Baghdad University's political science faculty, told Anadolu Agency that Turkish concerns about the presence of the PKK terrorist group in Iraq were justified.
"Turkey's concerns in this regard are legitimate," Namik said, describing Yildirim's recent visit as "a positive development".
"Consensus was established in many fields [during the Turkish PM's visit to Baghdad]," the academic said. "A crisis in relations is in neither country's interest."
He went on to note that the total trade volume between the two countries had risen to $20 billion last year.
On Saturday, Yildirim and Iraqi counterpart Haider al-Abadi co-chaired the third Turkey-Iraq High-Level Strategic Cooperation Council meeting in Baghdad, which wrapped up with a declaration that both countries would work together to promote regional peace and stability.
Reporting by Haydar Hadi; Writing by Mahmoud Barakat
Source:
Anadolu Agency webiste
http://aa.com.tr/en/middle-east/turkish-pm-s-baghdad-visit-new-page-in-bilateral-ties/724123