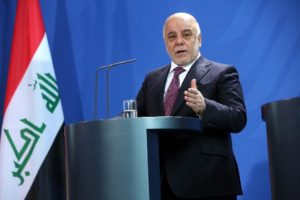 BAGHDAD — Iraqi Prime Minister Haider al-Abadi claimed on Saturday that ISIS has damaged Iraq's infrastructure by $35 billion since the conflict began in 2014.
"In the fight against ISIS, the group has damaged Iraq's infrastructure by $35 billion," Abadi said while speaking at Baghdad Dialogue convention held in the Iraqi capital.
"This is a complete destruction and loot of Iraq's economy in the name of Islam and under the slogan of liberation," Abadi added.
The two-day dialogue is meant to discuss the latest political developments in the region and ISIS's ongoing setbacks on the battlefields and sectarian rivalries.
"Some countries consider Iraq as a threat, but the fight against ISIS by Iraq will bring about protecting the security of the region's countries," he remarked about ISIS.
The Iraqi prime minister also said that the Iraqi army is the only ground force fighting ISIS within the country's borders, and the cause of sectarian rivalries in Iraq is ISIS so Iraqis need to work together.
"ISIS tried to create rivalries among us," said the premier. "But coexistence is the best response to ISIS.  An end has to be put to sectarian and ethnic divisions in Iraq. Iraq is not the country of the Shiites alone. The politicians have to put aside sectarian interests."
The Baghdad Dialogue commenced on Saturday and will last for two days. The first day of the convention took place in Iraqi parliament with the second at the University of Baghdad.
In attendance were representatives from the government, presidency and parliament of Iraq, as well as foreign representatives and delegates from regional countries. A Kurdistan Regional Government delegation has attended.
Source: By Rudaw 14/1/2017
http://www.rudaw.net/english/middleeast/iraq/140120172