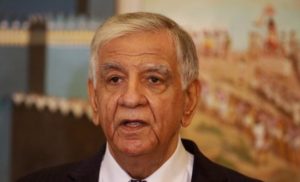 BAGHDAD: Iraq is committed to respecting its reduced oil production quota as agreed with the OPEC and other exporters, Oil Minister Jabar Al-Luaibi told a news conference on Sunday in Baghdad.
Al-Luaibi also said that talks are continuing with Royal Dutch Shell on the Majnoon oil field that the company is said to be seeking to quit.
"There are still negotiations, things are not clear," Al-Luaibi said. "We haven't initiated talks with other companies."
A letter signed by Al-Luaibi, dated August 23 and seen by Reuters, gave approval for Shell to quit Majnoon, a major oilfield near Basra which started production in 2014.
OPEC ministers who met in Vienna on Friday said they may wait until January before deciding whether to extend output curbs meant to support prices beyond the first quarter of 2018.
OPEC members and other producers including Russia have cut production by about 1.8 million barrels per day (bpd) since the start of 2017, helping lift oil prices by 15 percent in the past three months.
OPEC and its allies have been considering extending the deal beyond the end of March 2018 when it is due to expire.
"We support the unity of OPEC and its consensus," Al-Luaibi said when asked about whether Iraq would support an extension to the production cuts.
Source: Reuters | Published — Sunday 24 September 2017