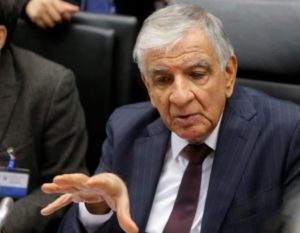 Iraq's talks with Exxon Mobil to develop a multi-billion-dollar project to boost output from several southern oilfields are nearing completion, oil minister Jabar al-Luaibi said on Monday.
"Talks are in advanced final stages with Exxon to develop and finance the important south project," Luaibi told reporters after meeting an Exxon delegation in Baghdad.
The "Integrated South Project" consists of building oil pipelines, storage facilities and a seawater supply project toinject water from the Gulf into reservoirs to improve production, said Luaibi.
The enhanced recovery project covers the Luhais, Nassiriya, Tuba, Nahr Bin Umar and Artawi oilfields.
Iraq, OPEC's second-largest producer, had approached PetroChina and Exxon Mobil about investing in the project, Iraqi officials have said.
Luaibi separately asked Turkey's state oil company TPAO on Monday to resume operations to develop the Mansuriya gas field in the eastern Diyala province. TPAO halted operations in 2014 after ISIS overran large parts of Iraq.
Luaibi made the request at a meeting with the Turkish ambassador to Iraq, according to oil ministry spokesman Asim Jihad.
"The oil minister encourages Turkish energy companies to participate in developing Iraq's oil and gas projects," said Jihad.
Source: Reuters, Baghdad Monday, 9 October 2017