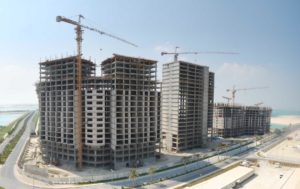 Iraq's foreign minister on Feb. 28 called on Turkish businesspeople and investors to participate actively in the reconstruction of the country's economy, which is recovering from a nearly nine-year U.S.-led invasion that ended in 2011.
In an exclusive interview with state-run Anadolu Agency, Ibrahim al-Jaafari recalled that in 2014-2015 the trade turnover between Iraq and Turkey amounted to $18 billion. The volume fell to $12 billion recently.
Jaafari said he hoped the volume would return to the previous level and even surpass it, blaming terrorism in the country for the reduction in trade.
"Now we are seeking to increase investments from Turkey and other countries, because we believe that economic cooperation helps bridge gaps between the countries.
"Turkey is actively involved in the reconstruction of Iraq's economy. There are a lot of Turkish companies in Iraq."
He paid tribute to 300 employees of Turkish companies who lost their lives in terrorist attacks in Iraq.
The country has been rocked by frequent bombings by the Islamic State of Iraq and the Levant (ISIL) since 2014.
Speaking about last year's referendum by the Kurdistan Regional Government (KRG) in northern Iraq, he said they must abide by the Iraqi constitution, which considers all regions equal and declares Baghdad as the national capital.
"All processes in the country, including in this region, must go through the center, through Baghdad. No one can violate the sovereignty of Iraq. All regions are governed from Baghdad as the capital of Iraq," he said.
Source: Hurriyet Daily News, March 01 2018
http://www.hurriyetdailynews.com/iraq-eyes-turkish-investment-to-revive-economy-iraqi-fm-128078