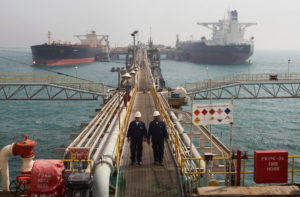 BAGHDAD – Iraq's oil exports for August hit their highest monthly figure this year, the oil ministry said Saturday, with nearly 112 million barrels of crude bringing $7.7 billion to the war-torn country's ailing economy.
"In August, exports of crude reached 111.6 million barrels and revenues were $7.7 billion," on an average price of $69.59 per barrel, it said in a statement.
In August last year Iraq earned $4.6 billion from the sale of 99.7 million barrels of crude oil.
Iraq's sole source of foreign currency, oil revenues have pumped more than $60 billion into state coffers since January.
Baghdad's economy has been hit hard by the war against the Islamic State jihadist group which had seized a third of Iraq's territory in 2014 before being ousted in a vast government offensive last year.
Iraq suffers from persistent corruption and many Iraqis complain that the country's oil wealth is unfairly distributed.
This summer saw weeks of demonstrations in the oil-rich but marginalised south, demanding an end to power shortages and graft.
Iraq has the second-highest output of any member of the OPEC oil producers cartel, at some 4.5 million barrels per day.
Major oil producers including OPEC members and Russia agreed in June to raise crude output.
Source: Agence France-Presse, Sep 02 2018
https://news.abs-cbn.com/business/09/02/18/iraq-oil-exports-hit-2018-peak-in-august