Photo shows the central processing facility of Halfaya oil field in Iraq. (Photo/Ahmed)
Halfaya oil field is one of the seven giant oil fields in Iraq. Located in southern Iraqi province of Maysan, it boasts an annual production capacity of 20 million tons. It is the largest project that PetroChina undertakes overseas in its capacity as operator, and plays a crucial role in ensuring Iraq's energy exports.
Haider al-Rubaie, chairman of the Iraqi-Chinese Friendship Association noted that Iraq-China energy cooperation constitutes an important part of the co-construction of the Belt and Road Initiative, and projects undertaken by Chinese enterprises have made positive contributions to Iraq's economic recovery and livelihood development.
The oil field was discovered in 1976. However, it was not exploited by the Iraqi government due to complex geological conditions and other reasons until PetroChina, in association with several international and local energy companies, won the bidding for the Halfaya project in the second petroleum bidding round organized by the Iraqi side after the Iraq war in 2009.
Fang Jiazhong, head of PetroChina Halfaya Oil Field, said Halfaya oil field consists of multiple giant carbonate reservoirs carrying different features and having different rocks and fluids.
Multiple Chinese research institutions and enterprises launched joint researches to make innovations in both theory and practice to ensure the success of the extraction.
Fang said the tight spread of multiple oil wells within a short distance in Halfaya oil field is a good example of such innovations. He explained that oil wells extend thousands of meters underground, which are horizontal, vertical or both, so efforts must be made to ensure that these oil wells are free from mutual interference and complement each other in exploitation.
Such a tridimensional well pattern demonstrates the outstanding technological and management capability of the Chinese side, Fang added.
"Iraq is in urgent need of investment in the oil and gas industry, and China has boosted local development in the construction of the Halfaya oil field. Iraq-China energy cooperation enjoys broad prospects," said Anwer al Bhadly, an official from the Ministry of Trade of Iraq.
He stressed that Belt and Road projects bring tangible benefits to host countries and regions, and Iraq should board the train of China's rapid development to better cope with the challenges it faces.
A natural gas processing plant at Halfaya oil field is expected to be mechanically completed this September and put into use before the end of the year. So far, 90 percent of the construction has been completed, including cooling towers, scrubber towers and storage tanks.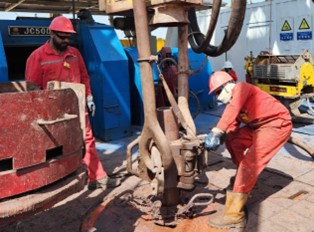 Local employees work at Halfaya oil field in Iraq. (People's Daily/Guan Kejiang)
Massive natural gas would be generated during the exploitation of crude oil. However, in Iraq, such natural gas is mostly burned at sites of oil exploration because natural gas processing calls for huge investment, takes a long time and is technically challenging. It not only is a waste of resources, but also creates severe pollution when burning the gas. Therefore, the construction of the natural gas processing plant at Halfaya oil field draws wide attention in Iraq.
The plant will be the first major associated gas project in Iraq after being put into operation. It is expected to reduce nearly 30,000 tons of sulfur dioxide emissions, and the liquefied petroleum gas it produces each year can generate 5 billion kWh of electricity, which meets the demand for 4 million local households.
Iraqi Deputy Prime Minister and Oil Minister Hayan Abdul Ghani hailed PetroChina for making significant contributions to solving local livelihood problems, saying the company has worked actively to tackle challenges and steadily promoted the construction of the natural gas processing plant at Halfaya oil field.
"It is hoped that the project can be completed soon and alleviate local energy shortage as early as possible," he added.
PetroChina Halfaya Oil Field has launched a series of training programs for local university students to promote local employment and improve Iraq's talent training. It is learned that many trainees have become department heads or project leaders.
"When I just joined the company, it was still a wasteland here. Now, it's covered by trees and neatly built constructions. There's even a small airport here. Employees of the company come from dozens of countries, and the company just provides us a place where we get better through mutual learning," said Ali Nasir Waheed AL-Lami, Section Head of Recruitment, Human Resources Department, PetroChina Halfaya Oil Field.
He told People's Daily that the company has over 1,600 Iraqi employees, accounting for over 80 percent of the company's total workforce.
The Hawizeh Marshes in Halfaya oil field is the only wetland in Iraq protected by the Ramsar Convention. Its ecological environment is highly sensitive. Halfaya oil field strictly follows environmental protection standards, so as to reduce pollutions from human activities and build a virtuous ecological cycle for the wetland, which has effectively protected the habitat of migratory birds.
Besides, PetroChina is also actively joining local public welfare. It offers food for local communities, helps them repair roads, build bridges, tunnels, high-voltage power transmission lines, ditches and other infrastructure projects. It has also donated activity rooms, school buses and stationery to local schools, as well as home appliances and furniture to local residents.
Ali Dawai Lazem, Governor of Maysan Province, noted that the Chinese company has made huge contributions to improving Iraq's public welfare, employment and livelihood, and strengthened the traditional friendship and pragmatic cooperation between Iraq and China.
Source: People Daily Online, June 29, 2023
http://en.people.cn/n3/2023/0629/c90000-20037585.html