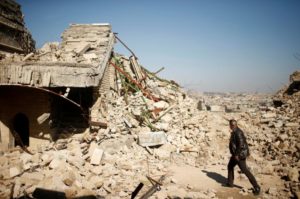 Nineveh (IraqiNews.com) Destruction caused by Islamic State militants and battles with security forces have inflicted 40 percent of the infrastructure in the western side of Mosul, a municipal official in Nineveh has said.
Almaalomah website quoted Nineveh province council member Hassan Sabaawi saying the scope of destruction occurred as Islamic State militants blew up civilian and government property. He added that the density of residential areas, especially at Wadi Hajar and Tayaran districts, added to the crisis.
Last January, Majed Shinkali, a parliament member from Nineveh, said the war in Mosul had destroyed 80% of the city's infrastructure. In January, the Iraqi government approved 27 U.N.-sponsored projects for the reconstruction of Mosul's liberated areas, but has yet to set timetables for their implementation.
Iraqi government forces recaptured eastern Mosul from Islamic State on January 24th after three months of battles, and recently said they became in control of 30 percent of western Mosul since another offensive launched in February.
The conflict in Mosul has forced nearly 100.000 civilians to flee homes in the western side, putting the total of refugees displaced in the whole city well beyond 250.000.
IS fighters have reportedly booby-trapped civilians residences and opened escape routes penetrating homes while preparing for the battles.
 Source: Iraqi News com, March 13, 2017
http://www.iraqinews.com/features/infrastructure-western-mosul-destroyed-40-official/