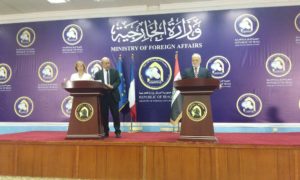 France will give Iraq a 430 million-euro ($513 million) loan this year after the nation's budget was crimped by the fight against Islamic State and the drop in oil prices, according to Agence France-Presse reported, citing the French government.
Foreign Minister Jean-Yves Le Drian, visiting Baghdad, told Iraqi Prime Minister Haider al-Abadi at a meeting Saturday that the money will be delivered before the end of the year, AFP said.
The loan, like those of the World Bank, requires an improvement in Iraq's management of its public finances and the governance of state-owned enterprises, as well as greater energy efficiency, the news agency said.
Source: Bloomberg, August 26, 2017
By Phil Serafino
https://www.bloomberg.com/news/articles/2017-08-26/france-plans-513-million-iraq-loan-foreign-ministry-tells-afp