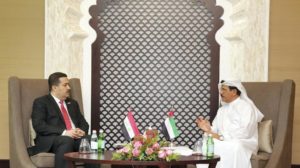 The UAE and Iraq have created a joint business council to look at ways to boost investment and trade between the two countries as Iraq looks to rebuild the country following years of violence, the UAE ministry of Economy said.
"The two parties agreed to form a joint working team or technical committee to enhance investment cooperation and to identify related priorities in vital sectors of the Republic of Iraq as it undergoes reconstruction," the UAE ministry of economy said.
"The proposed group will facilitate the necessary procedures and address the challenges that may be faced by UAE companies and investors wishing to enter the Iraqi market. The formation of a joint businessmen council for promoting cooperation between the business communities of both countries was agreed upon as well."
Mohamed Al-Sudani, the Iraqi minister of industry and minerals, said that Iraq would rely heavily on the UAE's private sector and its investors and that they would be given high priority on account of their expertise and capabilities. For his part, Sultan bin Saeed Al Mansoori, the UAE minister of economy, said that there was much promise for cooperative opportunities for small to medium sized enterprises (SME) and that an SME memorandum of understanding may be in the offing.
The International Monetary Fund (IMF) said last month Iraq's economy remained open to risks stemming from the armed conflict with ISIS and sluggish oil prices, even though medium-term prospects are positive.
Declining oil prices have caused Iraq's international reserves to plunge to $45 billion at end-2016 from $54 billion at end-2015, according to the IMF.
Increased spending associated with  volatility and lower oil prices have fueled a government deficit, which widened to 14 percent of gross domestic product (GDP) in 2016 from 12 percent in 2015 despite ongoing fiscal consolidation.
Iraq's proven oil reserves were 153 billion barrels, the fifth largest in the world, according to BP Statistical Review of World Energy.
The latest tie up complements efforts by the Iraqi government to strengthen ties with Saudi Arabia this summer as the country seeks to bolster economic and investment relations with the kingdom. Baghdad said it aims to improve cooperation with Riyadh in areas of trade, industry and agriculture, in both the public and private sectors.
Source: The Nation, September 20,2017
https://www.thenational.ae/business/uae-and-iraq-form-joint-business-council-to-boost-investment-and-trade-1.630369