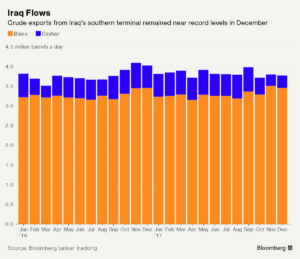 By Anthony Dipaola
December exports from south at 3.46 million barrels a day
Burgeoning sales come amid OPEC-led drive to shrink oil glut
Iraq exported near-record levels of oil from the south in December as the federal government seeks to make up for production disruptions after territorial disputes in the country's north.
Southern exports at record levels in November and December again call into question Iraq's ability to meet its commitment to cut output as part of the OPEC-led drive to curb a global oil glut. The producers' group is seeking to bolster prices by keeping excess crude off the market. Iraq's burgeoning southern sales contrast Saudi Arabia's efforts to buttress the group's action by cutting more than its share of production.
Iraq, the second-largest oil producer in the Organization of Petroleum Exporting Countries, shipped 3.46 million barrels of crude a day from its southern port of Basra last month, according to tanker tracking data compiled by Bloomberg. That's slightly down from November, when the country exported a record 3.51 million barrels a day from the south.
The tanker tracking figures are slightly lower than Oil Ministry figures released on Wednesday, which showed December crude sales excluding northern flows reaching a record 3.535 million barrels a day.
Iraq is boosting southern output to offset a decline in exports from the country's north. The semi-autonomous Kurdistan Regional Government ships crude it produces via pipeline to Turkey's Ceyhan port. Sales from the neighboring Kirkuk region halted in October after the central government retook fields there from the Kurds amid a territorial dispute.
Total exports — from both north and south — slipped about 22,000 barrels a day in December, to 3.78 million barrels a day, according to tanker-tracking and port agent data compiled by Bloomberg. Sales from the north alone rose 10 percent to 319,000 barrels a day in December, according to tanker tracking. While that increase helped to regain some of the sales lost since October, exports are still only about 60 percent of their level prior to the dispute.
Iraq pumped 4.39 million barrels a day in November, exceeding its OPEC quota of 4.35 million barrels daily, according to data compiled by Bloomberg. The country met its commitment to the group for the first time last year only in October, when output slumped amid the output disruptions, also according to Bloomberg-compiled data. OPEC secondary-source figures put production a little above that level even in October.
Exports from Saudi Arabia, OPEC's biggest producer, fell in December to the second-lowest level in the year, according to Bloomberg tanker tracking. The Saudis cut sales to China to the lowest in 2017.
Source: Bloomberg, January 3, 2018
https://www.bloomberg.com/news/articles/2018-01-03/iraq-ships-near-record-amount-of-oil-from-south-amid-opec-cuts