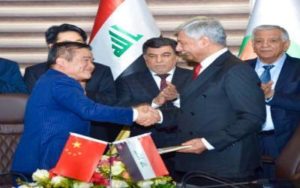 In the presence of the minister of oil… the ministry of oil signed the initial form of the contract to develop the (East Baghdad field- The southern part) with Jinhua Chinese Company.
Mr. Jabbar Ali Hussein Al-Luiebi the minister of oil said that the signature of the contract to develop the field is so important to add (40) thousand barrels/ day to the current production of the midland oil company. He said also that the signature of the contract is the result of the devoted efforts of the oil staff. And the contract will achieve a good benefit for the national production. In addition to the fuel supply to the power stations. And the investment of more than (20) MSCF of gas to supply the power stations in Baghdad and the suburbs.
Mr. Al-Luiebi said also that this contract is different from the other old service contracts because the form of the contract was modified to serve the public interest, and to depend on the local employment as 80% of the project staff. The contract also represents a big step to invest and develop the oil fields perfectly "such as east Baghdad field".
The contract also has other benefits, such as the construction of an industrial city and residential integrated city to contribute in the preparation of a good work environment for the employees whom are working in the field development.
Mr. Jim Bei the manager of the Chinese Company confirmed on the keenness of his company to cooperate with the ministry of oil to develop the field and raise its production. He also praised the cooperation of the ministry and the concerned authorities to complete the agreement form.
Source: Ministry of Oil, December 27, 2017
http://www.oil.gov.iq/index.php?name=News&file=article&sid=991