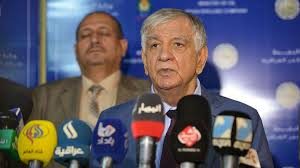 By Sinan Salaheddin | AP April 26
BAGHDAD — A United Arab Emirates energy company and two Chinese firms emerged Thursday as the only winners in Iraq's rushed bidding round for nearly a dozen hydrocarbon-rich areas.
Only nine companies out of 26 originally prequalified decided to take part. And major oil companies — Russia's Bashneft, Lukoil and Gasprom, America's ExxonMobil, and France's Total — were supposed to bid but withdrew.
The auction, Iraq's fifth auction since opening its vast resources to international energy companies in 2009, was announced last year with the deadline to receive bids on late June.
But last month, Oil Minister Jabar Ali al-Luaibi unexpectedly moved the date to April, leaving the companies with a short period of time to study the offered contracts.
Al-Luaibi's move was seen as a political maneuver ahead of May 12 national elections in which he is campaigning for a seat in parliament. He hopes to represent the oil-rich southern province of Basra as a member of the Victory Alliance, which is led by Prime Minister Haider al-Abadi, who is running for re-election.
Addressing the bidders, al-Laubi denied any other reason other than developing the country's border fields that "were neglected for five decades in a best way possible."
In previous bidding rounds, officials spent months hosting conferences, road shows and discussions with companies before issuing final contracts.
The UAE Crescent Petroleum landed three deals almost without any competition. Two are for the Gilabat-Qumar and Khashim Ahmer-Injana gas fields in Diyala province in northwestern Iraq. The company will be entitled to 9.21 percent and 19.99 percent of net profits, respectively, from the two fields.
The third deal is to explore and develop the oil-rich Khider Al-Mai block that is shared by the southern Basra and Muthana provinces. The UAE company's share in the net profit will be 13.75 percent.
China's Geo-Jade company won the rights to explore Naft Khana block in Diyala, rich with oil and dried gas, and Huwaiza block in southern Mayssan province. Its share of net profits from the two blocks will be 14.67 percent and 7.15 respectively.
And China's UEG won the rights to explore and develop Sindbad green oil field in Iraq's Basra region. It will be entitled to 4.55 percent of the net profit.
Six other blocks — Zurbatiya, Shihabi, Jebal Sanam, Fao and the Arabian Gulf in Iraq's territorial waters in the Persian Gulf— in central and southern Iraq received no bids.
The deals will be initially signed on May 10, the head of the Oil Ministry's Licensing and Petroleum Contracts Department, Abdul-Mahdi al-Ameedi said. If they are not approved by the current government before the elections, they will be left for the next government, he added.
Iraq's previous bidding rounds succeeded in awarding rights to develop major oil and gas fields that hold more than half of its 153.1 billion barrels of proven oil reserves. Then, the auctions drew majors like U.S.'s Exxon Mobil, Royal Dutch Shell, the U.K.'s BP, China's CNPC and Russia's Lukoil.
As a result, Iraq's daily production and exports have jumped to levels not seen since the late 1970s and early 1980s. The nation is now OPEC's second-largest producer behind Saudi Arabia with daily production of around 4.36 million barrels a day from Baghdad-controlled oil fields, up from nearly 2.4 million a day in 2009. Daily exports averaged 3.450 million barrels a day last month.
In the summer of 2014, Iraq's economy suffered a double shock when the Islamic State group swept across much of northern and western areas and oil prices plummeted. Iraqi forces concluded major military operations against the extremists last year, but large parts of the country were reduced to rubble.
In February, Iraq secured $30 billion from international donors to help rebuild devastated areas, far from the $88.2 billion Baghdad estimates it needs. Earlier this month, the Iraqi Cabinet approved a five-year development plan with a target of 6.5 million barrels a day by 2022.
Iraq's 2018 budget of nearly $88 billion comes with a deficit of more than $10 billion. It is based on a projected oil price of $46 per barrel and a daily export capacity of 3.8 million barrels.
Copyright 2018 The Associated Press. All rights reserved. This material may not be published, broadcast, rewritten or redistributed.
Source: The Washington Post, April 26, 2018
https://www.washingtonpost.com/world/middle_east/iraq-awards-rights-to-develop-oil-in-countrys-northeast/2018/04/26/eeb4a1fc-4949-11e8-8082-105a446d19b8_story.html?noredirect=on&utm_term=.58b37f8ea3b1