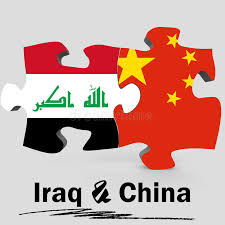 BAGHDAD, June 4 (Xinhua) — The Iraqi Ministry of Oil signed on Monday initial contracts with two Chinese companies for the exploration and development of three oil and gas blocks in Iraq.
The ministry signed two contracts with China's Geo-Jade Petroleum Corporation to develop the blocks of Naft Khana in the eastern province of Diyala and Huwieza in the southeastern province of Maysan, said Abdul-Mahdi al-Amidi, director general of the ministry's Contracts and Petroleum Licenses Department.
It also signed a contract with another Chinese company, United Energy Group (UEG), to develop the al-Sindibad block in the southern province of Basra, Amidi told a signing ceremony held at the ministry in Baghdad.
Earlier on Sunday, the ministry signed three contracts with the United Arab Emirates (UAE) Crescent Petroleum company to develop the three blocks in Kilabat-Gumar and Khashim al-Hmer-Injana in Iraq's eastern province of Diyala, and Khudhr al-Maa in the southern province of Basra.
The six initial contracts will be sent to the Council of Ministers, headed by Prime Minister Haider al-Abadi, for approval before the final signing, Amidi said.
Meanwhile, Iraqi Oil Minister Jabbar Luaibi said Iraq has ambitious plans to develop and explore the oil and gas blocks near the border to increase the country's oil and gas reserves.
He said that there are five more oil and gas blocks to be auctioned soon, pointing out that the average production of the six blocks is expected to reach 500,000 barrel per day (bpd) in the future.
Earlier, Iraq invited foreign energy companies to a new bid for the exploration and development of 11 oil and gas blocks near the borders with Iran and Kuwait.
On April 26, the competition in the bidding round ended by awarding six licenses to UAE Crescent and the two Chinese firms to explore and drill for oil and gas in six blocks in eastern and southern Iraq.
April's auction was the fifth in Iraq since the country opened its oil and gas sector for foreign investment in 2009.
Iraq's economy relies heavily on oil, which generates over 90 percent of its revenues. The country wants to increase its crude oil production to more than 5 million bpd from its current 4.35 million bpd.
Early in 2017, it was announced that Iraq's proven oil reserves had increased to 153 billion barrels from the previous estimate of 143 billion barrels.
Source: Xinhua| 2018-06-04 22:47:02|Editor: yan
http://www.xinhuanet.com/english/2018-06/04/c_137229921.htm