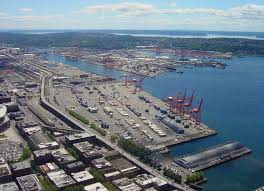 Japan's Mitsubishi has secured a contract to expand and upgrade vital port infrastructure in the Basra region of Iraq.
The project contract, awarded by Company for Ports of Iraq and financed by Japan International Corporation Agency, will see Mitsubishi modernise various berths in order to meet the increasing demand for shipping in and out of the country.
Specifically, the work will involve expanding the oil products berth at Khor Al-Zubair Port and building a new service berth for working ships and service boats at Umm Qasr Port.
See also:
Mitsubishi will be leading a team of contractors, which include two Turkish firms – energy infrastructure provider Calik Enerji and construction firm Gap Insaat, both of which part of the Calik Holding group.
The vast majority of materials, chiefly steel structures, will be sourced from Japan.
Khor Al-Zubair and Umm Qasr are the only ports currently in operation in the Basra region, where a system of ports located in the 48km wide tip of the country wedged in between Iran and Kuwait along the Persian Gulf gives Iraq its only outlet to the sea.
Iraq's economy is extremely dependent on oil production and export, with the World Bank predicting the country's economic outlook to improve due to a more favourable security environment and recovering oil prices.
By TOM WADLOW . Jun 04, 2018,
Source: Construction Global
https://www.constructionglobal.com/infrastructure/mitsubishi-corporation-lead-110mn-upgrade-ports-basra-iraq