BAGHDAD — Eighteen years after the U.S. invasion that deposed Saddam Hussein, Iraq offers a long, painful story about the limits of American power. But Prime Minister Mustafa al-Kadhimi will visit the White House this month to urge President Biden to keep trying — by maintaining a U.S. military commitment to a country that straddles the fault lines of the Middle East.
Kadhimi is a rare figure in a region where most political leaders are autocrats, crooks or both. He's a former journalist and intelligence chief who's long on idealism and short on political power. He doesn't have a party or a militia. He has tried but often failed to curb the Iranian-backed militias that plague his country. He has made reform promises that, so far, he has mostly been unable to keep.
Yet after a five-day visit here with Kadhimi and most of his top lieutenants, I'd assess the experiment he started when he became prime minister just over a year ago as a bet worth continuing. It may be a long shot, but the costs to the United States are relatively low and the potential rewards are large. This is a situation in which the tired phrase "stay the course" actually has some meaning.
Kadhimi is trying to strike a tricky bargain with Biden. He wants an agreement on withdrawal of U.S. "combat" forces, as the Iraqi parliament has demanded, but a continuation of the other American military support that gives his country a shot at maintaining independence and sovereignty. His problem is that Iran wants the United States out entirely, and its militias keep firing rockets at the U.S. Embassy and military sites to make the point. Kadhimi needs to do more to stop them — for the United States' protection and Iraq's.
"We are seeking a long-term strategic partnership," he told me during an interview at his residence here. "Iraqis are now ready to stand up on their feet and protect themselves. We are no longer in need of U.S. combat troops. At the same time, we will continue to need intelligence support, training, capacity building and advice."
Kadhimi's future depends on parliamentary elections scheduled for October. He isn't a candidate, but most people I met here assume he'd like to find a way to remain in the job. His best chance is a high turnout, encouraged by the Shiite religious leadership in Najaf, which would reduce the parliamentary voice of the Iranian-backed militias. If parliament is deadlocked, Kadhimi might remain as prime minister, with support from Sunnis, Kurds and a consensus of Shiite parties.
With his trim suits and dark, sharply drawn features, Kadhimi could play an Arab spymaster in the movies. He still lives in the stylish but relatively small house he inhabited before taking office. Back during his journalist days, he was a good friend of Jamal Khashoggi, the Post contributing columnist who was murdered on orders from Saudi Crown Prince Mohammed bin Salman in October 2018.
Kadhimi's strength and weakness, both, is that he isn't a politician. The Iraqi parliament was deadlocked after the 2018 elections; it turned to Kadhimi because, as intelligence chief, he was friendly with the United States — but not so close that he worried the Iranians. But lacking his own political network, he has been forced to negotiate with the existing power brokers.
"Americans ask me whether Mustafa Kadhimi is a good guy or a bad guy," says one prominent Iraqi politician. "This American concept doesn't fit. The question is whether he is strong or weak. The main question is how much power he has." On that front, Kadhimi's standing may be enhanced by his visit to Washington, and his growing support from other Arab leaders, such as Jordan's King Abdullah II and Egyptian President Abdel Fatah al-Sissi.
"There seems to be hope that Kadhimi is genuinely committed to reform and to reorienting Iraq away from Iran," says Raad Alkadiri, an Iraqi-born energy consultant who worked as an adviser to the British government during the post-2003 occupation. But he cautions: "The problem is that the prime minister lacks any autonomy; he is beholden to the political parties and is forced to maneuver between them. He also knows how powerful Iran can be. As such, he has tried to be all things to all parties, and increasingly disappointed all of them."
Living next door to a bully
Kadhimi took office in May 2020 as a representative of a movement of young, angry Shiites who had a simple slogan: Nureed Watan. "We want a country," free from the corrupt sectarian political parties, Iranian-backed militias and Sunni terrorists that have enfeebled the country since the U.S. invasion. These protesters referred to the old political elite as the "dinosaurat" — the dinosaurs. Many saw Iran as a vicious meddler, and protesters burned Iranian consulates in Najaf and Karbala in 2019.
More than 600 of these Iraqi protesters are dead, killed during the demonstrations or since then by Iranian-backed death squads who've hunted them down. Kadhimi has sometimes seemed powerless. But security officials tell me that about 150 militia members have secretly been arrested and are being held at undisclosed locations, pending charges.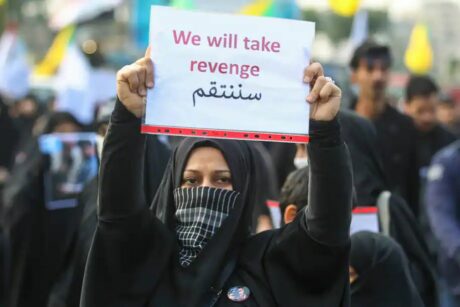 An Iraqi woman holds a placard during the funeral of Iranian military commander Qasem Soleimani in Baghdad in January 2020. (Ahmad al-Rubaye/AFP via Getty Images)
Iran is a pervasive presence here. Drive the streets of the Green Zone and you see posters every few blocks with doleful pictures of Iranian Maj. Gen. Qasem Soleimani and Iraqi militia leader Abu Mahdi al-Mohandes, who were both killed by a U.S. drone strike near the Baghdad airport on Jan. 3, 2020. "We will never forget the blood of our martyrs," warns a caption under the portraits.
The Iranian-backed militias regularly attack the U.S. Embassy with rockets and drones. They have also invaded the Green Zone several times to threaten Kadhimi. Last year, militia fighters surrounded his house for hours, making him a virtual hostage, demanding release of comrades whom Kadhimi's forces had arrested.
A friend of Kadhimi's remembers talking to him through that long night. The prime minister called the army for help, but it wasn't ready for confrontation. "He was alone," the friend recalls. The Iraqi judiciary, facing direct threats against themselves and their families, eventually released the captives.
Kadhimi keeps pushing back at the militias, despite these threats. This week, the government announced the arrest of Ahmed Hamdawi Al-Kinani, an Iranian-backed militant who allegedly killed a prominent Iraqi intellectual named Hisham al-Hashemi a year ago. Hashemi was a historian and human rights activist who had written about the militias. He was also Kadhimi's friend, and many Iraqis saw the murder as a message to Kadhimi. Kadhimi said in a tweet Friday after the arrest was announced: "We promised to capture . . . [the] killers" of al-Hashemi. "We fulfilled that promise."
The campaign against the militias is broader than this week's arrest. A security official tells me that Iraqi forces have conducted 30 to 40 operations to disrupt attacks planned by Iranian-backed militias, taking such preemptive action almost weekly in recent months.
"I am working seriously to restore the deserved status of Iraqi security organizations as they should be," Kadhimi told me. "Because of this, I am under ongoing attacks from these militant groups."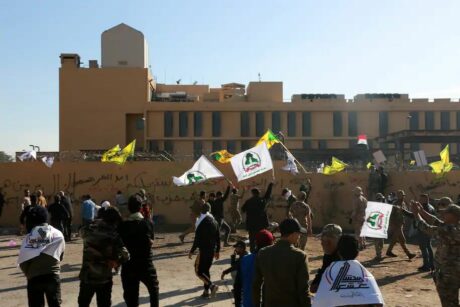 Members of an Iran-backed militia group gather outside the U.S. Embassy in Baghdad in December 2019. (Ahmed Jalil/EPA-EFE/Shutterstock)
'Iraq is a pivotal state'
A reminder of how far Iraq has traveled, despite internal chaos, came during a visit this week with President Barham Salih. We sat in his garden by the Tigris River on a gentle summer night, recalling our first meetings in the 1990s, when he was a young Kurdish activist lobbying Washington to oppose the murderous Iraqi regime. The garden of the presidential palace where we were talking was once Saddam Hussein's.
For all the ruin associated with the 2003 invasion, I didn't meet any Iraqis on this trip who want a restoration of Hussein and his vicious family. The only visible reminders of the mismanaged U.S. occupation are the remnants of concrete T-walls that still litter the old Green Zone.
What motivated the U.S. invasion, however mistaken it may seem in retrospect, was a sense that Iraq stood at the hinge of the Middle East, between Iran and the Arabs, Sunnis and Shiites, repression and freedom. The George W. Bush administration dreamed that a Shiite-led Iraqi democracy, guided by its own religious elite in Najaf, would be a bulwark against Iran. That proved to be folly; our invasion vastly increased Iran's leverage.
But Salih stresses that Iraq still lies at the seam of the region's conflict, and that abandoning Baghdad will only empower Tehran more. "Iraq is a pivotal state that will determine the regional order," he tells me as evening deepens along the Tigris. "Iraq is where the major historical forces come together — Arabia, Persia and Anatolia. The future of Mesopotamia is central to the Middle East."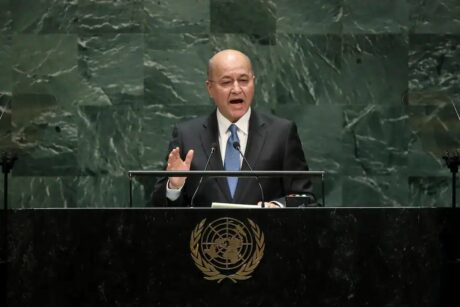 Iraqi President Barham Salih addresses the U.N. General Assembly in New York in September 2019. (Drew Angerer/Getty Images)
A bridge instead of a battleground
The U.S. Embassy compound in Baghdad is vast, described to me by one person as nearly the size of Vatican City. Under a sun that bakes like a refractory oven, green street signs give reminders of home: "Wall Street," "Hollywood Boulevard." But make no mistake: This is a compound under siege. At the far end of the consulate building is the bristling barrel of a C-RAM, a modern weapon that can destroy incoming rockets, artillery and mortar rounds with rapid bursts of fire.
The C-RAM and other advanced weapons have gotten plenty of use lately. A recent study by Michael Knights for the Washington Institute for Near East Policy says there have been 24 attacks by Iranian-backed militias on U.S. facilities since Biden took office — and only three U.S. retaliatory strikes. This past week was relatively quiet. The day I visited the embassy compound, there hadn't been a rocket or drone attack in four days.
Iraq is likely to remain a point of confrontation between the United States and Iran until the United States, working with the Iraqi government, either establishes some deterrence or pulls out.
Kadhimi wants a middle ground, a situation in which Iraq is a bridge, rather than a battleground. He has told American visitors that when he became prime minister, he had three choices: conduct open war with the militias; give in to them and become a subservient prime minister; or adopt a gradual strategy of hit and run. He chose the third.
"Iranians have influence in Iraq," he explains. "Some of this influence that the Iranians have in Iraq is because of their concerns about the United States and the role that it plays in Iraq. We need to reassure the Iranians that this relationship with the United States is built on common interests. Iraq must pursue its interests first and foremost."
'We still need the Americans'
Gen. Abdul-Wahab al-Saadi in Fallujah, Iraq, in June 2016. (Hadi Mizban/AP)
If Iraq can fight its own battles going forward, it will be thanks in part to an elite, U.S.-trained group known as the Counterterrorism Service, headquartered in a sparkling white stone building. A heroic mural of its fighters graces the entrance, and guards in elaborate, gold-braided uniforms flank the entrances. The commandos themselves wear crisply tailored black uniforms, like Iraqi versions of ninja warriors.
The CTS, as it is known, was the hero of the 2017 battle for Mosul against Islamic State fighters. Working closely with U.S. Special Forces advisers and combat air support, they waged a tough, house-to-house battle to retake the ancient city, facing waves of trucks bombs and entrenched Islamic State fighters. Before that, they had liberated Fallujah and Tikrit.
The CTS commander, Gen. Abdul-Wahab al-Saadi, has become a national celebrity. He's an Arab version of Clint Eastwood, gruff, measuring his words, alternating puffs on a cigarette and a vape. When prompted, he points to the five wounds he received in battle: throat, shoulders, back, arm and leg.
Saadi is proud that his forces liberated Iraqi cities from the Islamic State. But he knows he depended on U.S. military help, and he wants to keep it. "For training and air support, we still need the Americans," he tells me. He cites a recent operation where the CTS found some terrorists inside caves but lacked the capability to attack. U.S. advisers provided know-how. He wants that relationship to continue.
The job that still lies ahead
Kadhimi's hardest task, beyond even the battles with Iran, is building a viable Iraqi state. That's what the protesters who supported him want most. Though he has made only small visible progress, members of his team pointed to a series of accomplishments they say are the beginning of the battle against corruption and rule by militias.
Corruption in Iraq is so deep-rooted, it's embedded in nearly every aspect of business and politics. Kadhimi's answer has been to appoint an anti-corruption task force headed by Gen. Ahmed Abu Ragheef, a legendary Iraqi crime fighter who's said to have survived 13 assassination attempts and to be as large and imposing as a professional wrestler. He operates with his own staff of investigators and judges. Kadhimi also made Abu Ragheef director of the Interior Ministry's intelligence bureau, giving him access to information that can aid his prosecutions.
One major case involves corruption of the national pension system, which pays out $2 billion monthly. Abu Ragheef's team recently won convictions against a contractor who was skimming money from a national credit card for pensioners, known as Qi Card, and a conviction of a former director of public pensions who was part of the scheme. Security officials say the fraud may have netted $4 billion over a decade by delaying pension payments and privately investing the $2 billion each month, short-term. The investigation also disclosed as many as 300,000 ghost employees and pensioners.
The Iraqi electricity system is another notoriously corrupt and inefficient operation. The corruption task force prosecuted a former deputy minister of electricity, even though he was a Kadhimi adviser, and convicted another electricity ministry official of receiving bribes.
The corruption task force has also successfully prosecuted a former governor of Mosul. He reportedly stole $64 million; a security official said some of that money was meant for refugees.
Kadhimi's government is also trying to push back against Iranian manipulation of its energy sector. One notorious example is the flaring of natural gas at Iraqi oil wells, which Iran is said to favor because it can sell its gas to fuel Iraqi electricity plants.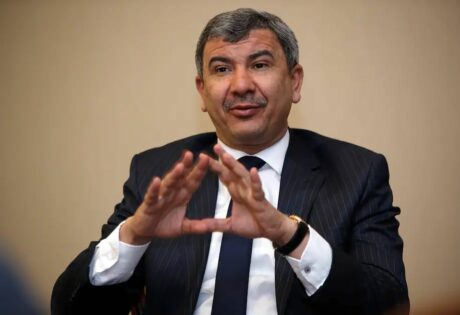 Ihsan Abdul-Jabbar Ismail, Iraq's oil minister, in Baghdad last month. (Hadi Mizban/AP)
Iraq's minister of energy, Ihsan Abdul-Jabbar Ismail, explained the country's plans in an interview at a posh government guesthouse. He said his ministry has begun gas projects that will stop all flaring at oil fields in southern Iraq by 2024 and halt the wasteful process nationwide by the end of 2025. By then, he said, the country should be able to stop importing gas except for electricity surge periods during the summer.
Iraq's larger problem is that global demand will inevitably decline for its energy exports as the world gradually weans itself off fossil fuels. Ismail told me he is signing contracts to develop seven gigawatts of solar power, which will help ease Iraq's current gap between the 20 gigawatts of power it now produces domestically and the 30 gigawatts it consumes.
But what will replace oil exports in the Iraqi budget? Ismail said Iraq's roughly $33 billion in annual oil income accounts for 85 percent of all state revenue. By 2035, he says, that market will be evaporating. Unless Iraq can find new exports, it will face an enduring crisis.
There's no 'magic wand'
Iraqi Finance Minister Ali Allawi in Baghdad in October 2020. (Khalid Mohammed/AP)
The gray eminence of Kadhimi's government is 73-year-old Ali Allawi, the finance minister. A former Oxford professor, he has served in Iraqi governments since Hussein was toppled in 2003. He wrote a book about the aftermath of the war, "The Occupation of Iraq: Winning the War, Losing the Peace," which the New York Times praised as the "most comprehensive" account of that period. Now, as Kadhimi's finance minister, Allawi has the immense challenge of trying to reconstruct the decaying Iraqi state.
During an interview at his home in the Mansour neighborhood, Allawi is frank about the overwhelming challenges ahead. "I don't think there is a magic wand" to solve all the problems that surround Iraq, he says. He has prepared a lengthy white paper with 600 reform proposals but, for now, he has only appointed the committee that will, in theory, use foreign advisers to implement these reforms throughout government.
Allawi devalued the Iraqi dinar by 25 percent, preventing what might have been the evaporation of the country's financial reserves when oil prices collapsed last year. But he despairs at the subsidies and efficiencies that are embedded in the system. Subsidized electricity prices, for example, cost the country $20 billion a year, he says. "You need to reform the entire mechanism of government."
Even anti-corruption efforts can have a hidden backlash, he notes. When the corrupt Qi Card system was halted by prosecutors, it was replaced with a new system that cost four times as much. The problem, he says, is lack of expertise — public and private — to manage a modern country. "The private sector is weak and compliant in the rentier economy. They don't seek to build up assets but to accumulate private wealth."
As an example of misconceived modernization, Allawi cites a plan to build a new town called Bismayah, about six miles southeast of Baghdad. It was a splendid project on paper, built by a South Korean company to international standards. The problem was that Iraqis couldn't afford the $200,000 cost of the state-financed houses and often bought them instead for less than half that price. It was one more waste of public funds.
Allawi works at his reform plans and hopes the next government, after the October elections, will bring them to fruition. "Public finance was a huge mess when I came in. Now, it's just a mess," he tells me.
That wry description probably applies to Kadhimi's government as a whole. It has a long way to go. But at least it's a start.
Source:  The Washington Post, July 17, 2021
Opinion | Mustafa al-Kadhimi's government in Iraq has a long way to go. But at least it's a start. – The Washington Post