Decades of war, poverty, and fossil fuel extraction have devastated the country's environment and its people.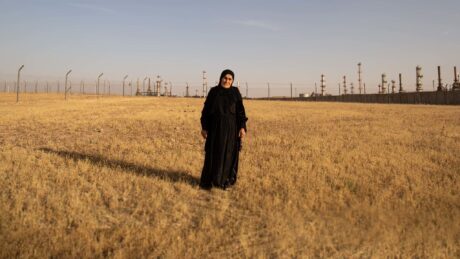 Top: Kamila Rashid says an oil refinery now sits on what used to be her family's land.
All photos by LYNZY BILLING for UNDARK
IT'S 6 P.M. and the pink-tinged skies turn black above Agolan, a village on the outskirts of Erbil in the Kurdistan region of northern Iraq. Thick plumes of smoke have begun to billow out of dozens of flaring towers, part of an oil refinery owned by an Iraqi energy company called the KAR Group. The towers are just about 150 feet from where 60-year-old Kamila Rashid stands on the front porch of her house. She looks squarely at the oil plant, which sits on what she says used to be her family's land.
Rashid was born here, like her parents before her and her children after her. She says when KAR moved into the area, residents traded their land for KAR's promise of jobs and reliable, less expensive electricity for the village. The land was handed over, Rashid says, but she maintains that KAR never provided the promised electricity or long-term jobs.
The towers, also called flare stacks, are used by oil refineries across the globe to burn the byproducts of oil extraction. Such flaring releases a menagerie of hazardous pollutants into the air, including soot, also known as black carbon. "The smoke coats our skin and homes with black soot," says Rashid. Many villagers keep their windows shut and try to remain indoors whenever possible.
Rashid's neighbor, 29-year-old Bilah Tasim Mahmoud, joins her on the porch. The younger woman is holding a beat-up notebook with the names of women from Agolan who have miscarried. "No one is counting, but I am," she says, flipping through the notebook's pages. "We have had 300 miscarriages in this village since the oil field was developed," she says, adding that she has been collecting this data but has no one official to take it to remain indoors whenever possible.
To continue reading dwonload PDF
'Everything Living Is Dying'- Environmental Ruin in Modern Iraq