BABYLON, Iraq — As Iraqi children witness the war plaguing their country, they are affected by the transformation of civilian life into a military camp full of war such as weapons, fighters and banners of armed factions.
The militarization of society is not new for Iraqis. Saddam Hussein imposed military control on Iraqi communities in 1998. This time around, the aggressor is the Islamic State (IS) terrorist organization, which has occupied large areas in northern and western Iraq since June 2014.
It is for this exceptionally important purpose that military mobilization is spread in the country, and thousands of Iraqis are voluntarily joining the ranks of the army and the armed factions, including — at least in symbolic membership — students and boys in primary and middle school. This mobilization has impacted students' creative activities, which include drawing, singing and delivering speeches. Common games now involve fake pistols and rifles and military uniforms in classrooms.
Children are facing several forms of military mobilization. In a YouTube video published May 19, an Iraqi child cries bitterly as he says that IS wants to demolish the Shiite holy shrines and that he must join the fighting. The child's father does not advise him against joining the fight, but encourages him and promises to buy him a military uniform and a weapon to fight the enemy, IS.
The spread of this type of mobilization and behavior was confirmed to Al-Monitor by Karim Hammoud, director of Hamza primary school in the province of Babil, south of Baghdad. Hammoud said, "The name of IS and [references to the] war and fighting jargon are frequently repeated in the songs and drawings of pupils."
Al-Monitor saw drawings hung on the walls of classrooms inspired by the Salahuddin province liberation battles that took place between Iraqi security forces and IS on March 31.
A drawing prepared by student Ammar Ali, 10, depicts dead IS members as the little artist tried to use broken red lines to show the blood that flowed from their faces, while he drew fighters from the Popular Mobilization Units making victory signs.
Civil rights activist Adnan Hussein from the Kaun Institution for Human Development showed Al-Monitor a painting drawn by a Yazidi child who was displaced with his family from Sinjar in northern Iraq to Baghdad.
The painting was exhibited during the art exhibition that was held June 12 under Hussein's supervision in the Baghdadi cultural center in collaboration with the Yezidi Cultural Forum.
Hussein pointed to the painting and said, "This painting reflects the extent to which children are affected by the killings and displacement operations that are carried out by IS against the Yazidi community in the Sinjar areas."
The painting shows a girl kneeling on the ground after being detained by members of the extremist terrorist organization.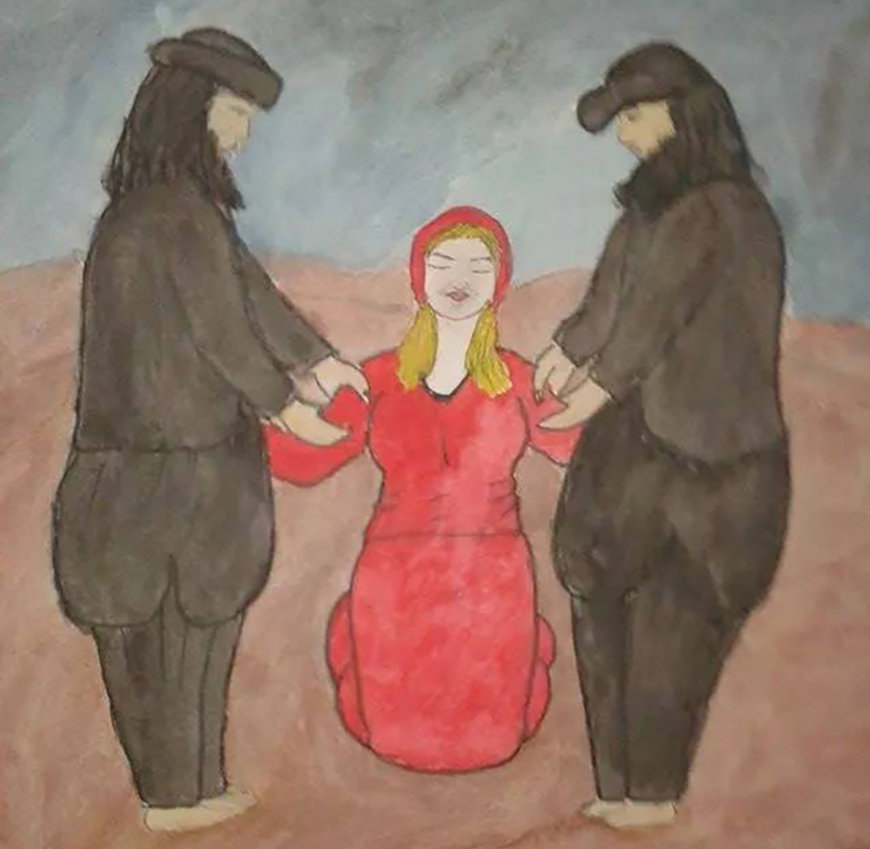 Painting by a Yazidi child, which was recently displayed during an art exhibition in Baghdad, illustrating a girl being detained by IS members. (photo by Wassim Bassem)
Hussein said, "It is difficult to uproot the profound psychological effects of the war from the hearts of children, as these are instilled in their minds and feelings and need exceptional efforts and psychological treatments in order for children to be able to restore their confidence in their surroundings and their belief in a bright future for their country."
Plastic artist Wael Murib, who closely follows children's paintings in Iraq, concluded the same and told Al-Monitor, "The [paintings] prove that the battle scenes and the scenes of the fall of the victims have become entrenched in the memory of children," and added that "it is necessary to protect children from the effects of the gory scenes, decapitations and corpses shown by the media."
It seems that war-related artistic expression has become a common pattern. This was confirmed to Al-Monitor by plastic artist Shabib al-Midhati, who supervised an exhibition for students held in the youth center of the western city of Hamza, south of Baghdad, and said that the exhibition paintings had an abundance of "war and fighting aspects."
"One of the paintings depicts planes bombing IS strongholds," Midhati said.
Midhati also pointed out that "children's drawings always show Iraqi security forces as
victorious, while most child painters are keen to show the brutality and cruelty of IS."
Author Ali Alobodi, who hails from Najaf, south of Baghdad, said that the children's interactive behavior with surrounding events "is proof of the child's quest to participate in the war, just like adults. In doing so, children achieve the ambition of defeating terrorism by drawing, reading a passionate poem or inventing a story."
Alobodi indicated that he sees "a lot of children in schools and on the streets trying to fight like soldiers."
The Iraqi environment is replete with memories of war and fighting, and since 2003, it has turned into an environment for sectarian and political strife. According to political writer and journalist Adnan Nehme Salman, Iraq is overflowing with sadness as well as dead, missing, displaced people and orphans.
Salman described to Al-Monitor the new generation of Iraqis as "prisoners of the violent atmosphere, which made the creativity of the Iraqi children characterized by sadness, melancholy and violent scenes."
Al-Monitor made a tour of youth centers and schools in the province of Babylon, the city of Najaf and areas south of Baghdad, where military uniforms are worn by some teachers and banners are hung onto school buildings, and curricula include lessons of national awareness. Also, a tour around the markets revealed toy war machines, tanks, planes, guns and rifles.
In an interview with Al-Monitor, social researcher Majida Oleifi Askara criticized the militarism plaguing the world of children and educational institutions. However, Iraqi society and religions researcher Sabah Mohsin Kazim said that mobilizing children was necessary to promote awareness against the influence of IS.
He stressed that his visits to schools, social clubs and religious festivities "indicate that the imagination of children is driven by the will to defend the country, and this has produced an exciting literary and artistic production."
Source: Al Monitor, Posted June 25, 2015
http://www.al-monitor.com/pulse/originals/2015/06/iraq-babylon-children-art-painting-war-school-childhood.html#ixzz3fyqHKTk7