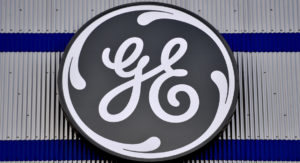 The Iraqi government is warning that a pair of pending deals with General Electric could be at risk from President Donald Trump's travel ban, according to internal State Department documents.
The industrial conglomerate, which builds everything from nuclear reactors to aircraft engines, already has sizable interests in Iraq, including power contracts worth more than a billion dollars and hundreds of employees in the country.
But U.S. diplomats, citing a senior Iraqi government official, are reporting that the Baghdad government "was preparing to sign two more deals with U.S. company General Electric that could be negatively affected, and that the prime minster wanted to expand Iraq's cooperation with GE into the health, transportation, and aviation sectors, as well as sign a maintenance contract with GE worth billions of dollars," according to a memo obtained by POLITICO.
"The travel ban called into question whether GE and the U.S. could be reliable partners," it added, noting that "such cooperation would be hurt by the new visa policy."
It is unclear whether the Iraqi warnings to American diplomats this week are suggesting the deals would be canceled as retaliation, or whether the 90-day ban might impact personnel involved in the negotiations or the actual work. The State Department memo also does not identify the specific contracts in question and a GE spokeswoman declined to comment.
But it demonstrates a growing area of concern: that the controversial travel ban involving seven Middle East nations could reverberate against American businesses that have lucrative deals there.
"We have invested over the course of the last decade and a half an enormous amount of money in building the capacity of Iraq — through students, through business exchanges, through technical exchanges that are now all placed in jeopardy," said Brett Bruen, a former foreign service officer in Iraq who also ran the White House Office of Global Engagement and now teaches at Georgetown University.
Other close observers expressed doubt that the Iraqi government would pull the plug on the deals but instead see it as another message to the Trump administration that the executive order — which the State Department memo relates "was both surprising and insulting to Iraqis" — is causing serious harm in a relationship that is foremost focused on fighting the Islamic State, which controls parts of Iraq and Syria and is seen as the biggest U.S. terror threat.
"That sounds pretty implausible, although there may be individual lawmakers that have expressed this for domestic political consumption," said Ali Al-Mawlawi, a former Iraqi official who is now a research fellow at the independent Iraqi Institute for Economic Reform in Baghdad.
He added that it "wouldn't make sense" to end such cooperation, "particularly since enhancing power generation is such a critical issue."
But the State Department is taking the warnings seriously — and is trying to head off even bigger complications in a relationship that remains tenuous.
The Iraqis have "also warned that while Iraq wanted a strategic relationship with the United States," the memo states, "if it saw that such a relationship was not welcome by the new administration, Iraq would be forced to look for 'other partners.'"
Reaction to the travel ban has been particularly negative in Iraq, where some 7,000 U.S. troops are deployed and thousands of American contractors are working.
The Pentagon has already sought exceptions to the travel ban for Iraqis that have worked with the U.S. military after the Iraqi Parliament warned it might be forced to enact a similar ban on Americans. which could further impact the war effort.
"We have ISIS on the run and rather than focus on that mission we have now created a distraction that is going to require the Iraqi government to justify why it's made concessions and compromises the previous government was not willing to make and find workarounds for what operationally has created a lot of obstacles," said Bruen.
Greater uncertainty in the U.S.-Iraq relationship, he added, "is going to damage Iraq's economy and is going to make Iraqis more susceptible to extremists."
Earlier this month, GE reported that it "has been active in Iraq for 40 years and employs 250 people there, including contractors, added 700 megawatts (MW) to Iraq's power-generation capacity last year alone under the country's Power Up program."
"The company just signed several new contracts worth a total of $1.4 billion with the Iraqi Ministry of Electricity to add a further 2,000 MW to Iraq's grid," it added. "Under the new agreements, GE will help supply turbines and other equipment as well as provide aid with engineering, procurement and construction for a pair of new 750 MW power plants that are being built in Samawa and Dhi Qar, some 200 miles southeast of Baghdad."
Ellen Mitchell contributed to this report.
Source: Politico, 02/01/17
http://www.politico.com/story/2017/02/iran-travel-ban-general-electric-234517