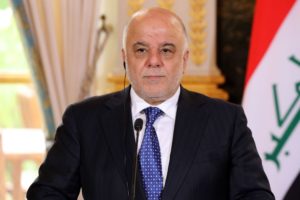 Iraqi Prime Minister Haider al-Abadi gives a press conference at the Elysee Palace in Paris on Oct. 5. (Ludovic Marin/AFP/Getty Images) 
The Iraqi prime minister has held his country together amid war and financial crisis. His next battle is to win re-election.
BAGHDAD — On a hot July afternoon in Mosul's city center, a crowd gathered to celebrate the liberation of the city. The sun was starting to set, and children were dancing and waving Iraqi flags as young men posed for selfies and looked across the Tigris River, where vicious fighting was drawing to a close in the Old City.
A convoy of armored cars began to drive past them and then suddenly came to a halt. A white SUV with blacked-out windows neared the sidewalk, and in an instant it was surrounded by bodyguards with automatic weapons. The crowd was hushed and looked on with curiosity; some hesitated and motioned to move away while others stood on their toes to get a better look. The last such convoy they had seen was when the so-called Islamic State swept into Mosul three years earlier — but these cars carried the Iraqi flag and not the black banner of the militant group.
To continue reading please download PDF file:Haider al-Abadi Is Succeeding at the World's Hardest Job.. BY SAJAD JIYAD