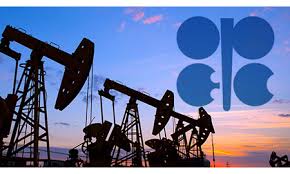 Iran's crude oil crossed the $57-a-barrel threshold for the second time this year as global prices continue to draw support from the prospect of extending a supply cut agreement between OPEC and non-OPEC producers.
Iran's light crude gained $1.32 to $57.45 per barrel while Iran Heavy, one of the country's main export grades, traded up 40 cents to $54.95 in the week to Oct. 27, Shana reported on Tuesday, citing an Oil Ministry report.
Iranian crude also recorded its highest 2017 average at $50.26 a barrel in the week after breaking the $50 barrier for the first time this year.
According to OPEC's latest monthly report published on Oct. 11, Iran Heavy crude settled up 7.3% at $52.27 in September from the previous month, reaching an average of $49.6 in 2017.
The price of OPEC basket of fourteen crudes stood at $61.05 a barrel on Monday, compared with $59.15 the previous Friday, according to OPEC Secretariat calculations.
Benchmark crudes that serve as a reference price for international markets continue to race ahead as producers seem to be edging closer to extending a global pact to cut supplies.
Brent crude futures were up 5 cents at $64.32 per barrel while US West Texas Intermediate crude traded at $57.32 a barrel on Monday, Reuters reported. Both benchmarks hit their highest since mid-2015 during the session.
Members of the Organization of Petroleum Exporting Countries, spearheaded by Saudi Arabia, and 11 non-OPEC producers including Russia have agreed to remove 1.8 million barrels per day of oil from the market through March 2018. But producers will discuss extending the deal through the end of next year when they meet in Vienna on Nov. 30.
Under the supply cut deal, Iran should pump an average of around 3.8 million barrels a day, almost on a par with its current production levels.
Saudi Arabia, which shoulders 40% of the OPEC cuts, hopes to reinforce the existing deal by roping in producers outside of the pact. Saudi Energy Minister Khalid said on Sunday that Uzbekistan may attend the meeting of OPEC-non-OPEC producers this month as an observer.
"Uzbekistan has responded (positively) to participating at the Vienna meeting this month, and has expressed its readiness to attend as an observer," Falih said on his Twitter account.
Although Uzbekistan's attendance will not immediately translate into output cuts from the Central Asian nation, the meeting could serve as a stepping stone for the country to pledge to the pact.
Prices were also buoyed this week by a sweeping purge of top officials and businessmen in Saudi Arabia. However, analysts do not expect the kingdom's political struggle to change the country's energy policies or impact the prices in the long term.
Source: Financial Tribune, November 07, 2017
https://financialtribune.com/articles/energy-economy/75778/iran-crude-oil-price-hits-new-year-high