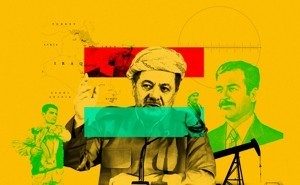 For decades, Washington has been content to indulge Kurdish dreams of independence. Why was Erbil willing to play along?
In a televised address on october 29, the president of the Iraqi Kurdish region, Masoud Barzani, declared that he would step down from his post. It remains unclear whether Barzani, son of the legendary founder of the Kurdish national movement, Mustafa Barzani, would reemerge as leader in a different guise, but clearly his announcement was not part of a well-laid plan.
To the contrary, it was the latest unintended consequence of his September 25 referendum on Kurdish independence—a long-sought aspiration—staged over the strenuous objections of not only the federal government in Baghdad and neighbors Turkey and Iran, but also the United States and the European Union. On October 16, Iraqi forces and Iran-backed Iraqi Shia militias retook the city of Kirkuk and its surrounding oil fields from the Kurds. It was a relatively bloodless affair, thanks to a deal between Abadi and a faction of the Patriotic Union of Kurdistan (PUK), the KDP's political rival, which had opposed the referendum and jumped on the chance to turn the tables on Barzani. Soon, these forces had retaken most of what the Iraqi constitution refers to as the disputed territories: a broad swath of land stretching from the Iranian to the Syrian border with Kirkuk at its center, which both Erbil and Baghdad claim. Kurdish peshmerga affiliated with the PUK and KDP either withdrew or fled.
To continue reading download PDF. Click on following link.
THE KURDS ARE RIGHT BACK WHERE THEY STARTED. BY JOOST HILTERMANN