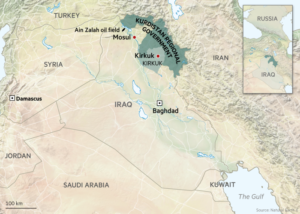 When the Iraqi autonomous region of Kurdistan went looking for someone brave enough to pump billions of dollars into developing its large oil and gas reserves, it found a man who has never been accused of lacking courage: Igor Sechin, an old friend of Russian president Vladimir Putin.
The chief executive of Rosneft, Russia's state-owned oil company, has ignored fears of conflict, criticism from western powers and navigated a web of regional, religious and political associations to emerge as Iraqi Kurdistan's single biggest financier. In the process he has moved a US military stronghold much closer to Moscow.
Rosneft, the world's largest publicly listed oil producer, says the investments are just good business, and have nothing to do with politics.
To continue reading download PDF. Click on following link
Rosneft's Iraqi Kurdistan oil and gas play angers Baghdad -Kremlin-controlled oil major ignores political obstacles to throw KRG $3.5bn lifeline