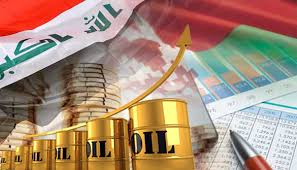 Iraq's fiscal deficit has been slashed considerably from two years ago, but that's because of the price of oil, not a major reform agenda.
Jan. 16 (UPI) — Iraq is one of the few countries assessed where political risk is a real concern for an economy pegged heavily to the price for crude oil, Moody's said Tuesday
Moody's Investors Service in an outlook published Tuesday on the economies of Egypt, Iraq, Jordan, Morocco and Tunisia said the situation was relatively good, compared with the risks permeating out of the Arab Spring uprisings that started in Tunisia in December 2010 and spread through the region.
Nearly a decade later, Moody's said ongoing structural reforms, a gradual regional re-opening and planned reconstruction programs were driving general gains in gross domestic product for the region in 2019.
"From among all the sovereigns we rate, Iraq is the only country whose political risk assessment is set at 'Very High (-)', both at the domestic and the geopolitical level," the report stressed.
A failed bid for independence in the Kurdish provinces of northern Iraq last year coincided with a push to liberate the region from the terrorist group calling itself the Islamic State. Those tensions added a geopolitical risk premium to the price of crude oil, though no production was seriously impacted.
Nevertheless, Iraq's credit rating is low at Caa1, which reflects the tight economic link to the price of oil and a volatile national security situation that presents reform obstacles for the country as a whole.
"These credit challenges are set against the country's substantial natural resource wealth and its relatively large economy," the report read.
On Monday, Moody's said that its growth expectations for the Gulf Cooperation Council — Bahrain, Kuwait, Oman, Qatar, Saudi Arabia and the United Arab Emirates — was around 2 percent for 2018. That's compared with the aggregate growth rate average for GPD of around 5 percent per year in the five years ending in 2015, but an improvement over recent flatness.
Iraq's GDP growth could be around 2.9 percent for 2018, but falter to around 2 percent in the next few years.
Iraq is one of the top oil producers in the Organization of Petroleum Exporting Countries. Crude oil prices have been supported at least since July by a decision by OPEC members to correct an oil market surplus with managed production declines, but received more support to start the year from a geopolitical risk premium.
For Iraq, GDP growth is vulnerable to oil, which accounts for more than 90 percent of its exports. Moody's said the fiscal deficit for Iraq was shrinking from highs above 14 percent in 2016, but that was almost entirely driven by the price for crude oil and not structural reforms.
Source: UPI, |  Jan. 16, 2018, By Daniel J. Graeber
https://www.upi.com/Moodys-Oil-is-Iraqs-blessing-and-its-curse/4151516109957/