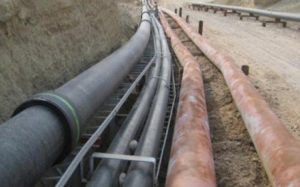 ERBIL, Kurdistan Region – Jordan approved an agreement with Iraq to build a twin oil and gas pipeline from Iraq's city of Basra to Aqaba that will help to meet Jordan's energy needs and generate revenues for both countries.
The 1,680 kilometer (1,044 mile) long twin pipeline will run from Iraq's Basra on the Persian Gulf to Jordan's Aqaba port, Jordan's state-run Petra News Agency reported on Monday.
The framework agreement is set to be signed between the Iraq Ministry of Oil and Jordan's Ministry of Energy and Mineral Resources.
The Iraqi oil ministry has repeatedly expressed "a keenness" for oil and gas agreements, as it rebuilds.
Iraq expects to pump 1 million barrels of oil per day (bpd) in addition to 258 million cubic-feet of gas.
Jordan requires 150,000 bpd to meet its energy needs and plans to export the remaining through Aqaba, generating approximately $3 billion dollars per year in revenues for the country.
Turaibil, the main border crossing between Iraq and Jordan reopened in August last year after two years of closure due to ISIS militants' control of the area. Jordan hopes to revive exports to Iraq through the reopening of the crossing, which it calls Karameh.
Prior to the rise of ISIS, Iraq was the Kingdom's main export market bringing in approximately $1.2 billion per year, according to International Monetary Fund statistics.
Iraqi troops pulled out of the Tureibil post in the summer of 2014 after ISIS swept through a third of the country and militants secured nearly all official border crossings in the west and southwest.
Jordanian exporters have been forced to use more expensive sea routes to Iraq's Um Qasr port or land routes crossing Saudi Arabia and Kuwait.
The International Monetary Fund has said that the prolonged conflicts in Iraq and Syria were weighing on Jordan's debt ridden economy and that the opening of export routes with Iraq would boost economic growth for both countries.
Source:  Rudaw 6/2/2018
http://www.rudaw.net/english/middleeast/iraq/060220181