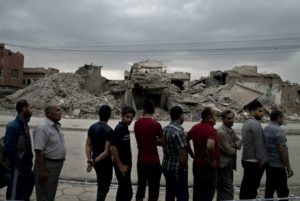 Iraqis in Mosul waited to vote on May 12 next to a building in ruins from the battle to oust Islamic State militants from their city. (Maya Alleruzzo/AP)
On May 12, Iraq held its fourth national elections since 2003. More than 10 million people turned up at polling stations. Men and women alike voted freely — a rarity in the Middle East, and something that Iraqis can be proud of. Despite a lower turnout than was expected, voters leaned toward cross-sectarian lists rather than the ethnic or sect-based groupings that dominated previous elections.
I myself campaigned in all 18 provinces, and our coalition won seats in 14 of those, something no other list was able to achieve. While there are irregularities that need to be addressed by the Independent High Electoral Commission, I have called on all sides to respect the final results and address any complaints through due legal process.
To continue reading download PDF file. Click on the following link
Why Iraq's election is a remarkable victory for democracy. By Haider Al-Abadi