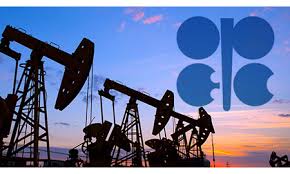 Global oil prices ended sharply lower on Thursday, as OPEC and its allies appeared to move closer to a deal to raise output as key oil producers gathered in Vienna ahead of meetings on Friday and Saturday.
Benchmark U.S. oil prices saw a more modest decline, pressured by a potential rise in output from the Organization of the Petroleum Exporting Countries but finding some support after the Energy Information Administration reported Wednesday a drop of 5.9 million barrels in U.S. crude supplies—the largest weekly decline since January.
August West Texas Intermediate crude CLQ8, +5.71%  lost 17 cents, or 0.3%, to settle at $65.54 a barrel on the New York Mercantile Exchange after briefly topping $66 during the session. August Brent LCOQ8, +3.39% dropped $1.69, or 2.3%, to end at $73.05 a barrel on the ICE Futures Europe exchange. That was the lowest for the global benchmark, based on the front-month contracts, since April 17, according to data compiled by WSJ Market Data Group.
Delegates from OPEC and a group of non-OPEC countries led by Russia are gathering in Vienna to discuss the future of their output-cut agreement, which has been in place since January 2017. The joint ministerial committee of OPEC members and their allies were holding a monthly meeting Thursday to discuss compliance with the pact, ahead of the main action on Friday and Saturday.
Check out: What time is the OPEC meeting?
Saudi Arabia and Russia—the world's largest oil producers—have pushed for an increase in production to be agreed at the meeting on Friday, and Iran in particular has been a vocal opponent of such plans. Iranian oil minister Bijan Zanganeh, however, late on Wednesday indicated he would accept a modest rise in production, which is seen as paving the way for a joint agreement on lifting output.
See: 'Oil is not a weapon': Iran's energy minister wants OPEC to push back against Trump
Read: Here's what could happen to oil if everyone's OPEC expectations are wrong
Calls to increase the agreed output ceiling have risen in recent months, as production from pact members has declined faster than expected, mainly due to a drastic fall in Venezuela's output. Fears that Iran's exports will shrink due to reinstated U.S. sanctions have also sparked concerns of a supply shortage, helping oil prices rally 50% over the past year.
Russia has proposed boosting production by 1.5 million barrels a day, but analysts believe such a jump is unlikely, given the Iranian opposition.The original agreement had called for OPEC and its allies to cut 1.8 million barrels a day from their late 2016 levels.
Bloomberg News reported that a Saudi proposal includes a "complex calculation" which looks at how much the group has cut output beyond their required amount, according to a tweet Thursday from Javier Blas, chief energy correspondent at Bloomberg. The oil producers participating in the pact estimate cuts total 2.8 million barrels a day, and under the proposal would share a quota rise of 1 million barrels a day, the report said, citing unnamed delegates.
The most likely scenario appears to be a return of 600,000 barrels to 1 million barrels a day "of currently idled supply," said Robbie Fraser, commodity analyst at Schneider Electric. "However, that would mean limited net supply change as it would mainly be needed to offset expected declines from Iran and Venezuela."
Early Thursday, Saudi Arabia's energy minister, Khalid al-Falih, reiterated calls for higher production targets, saying OPEC has to meet the needs of the market. He acknowledged, however, that some members won't be able to increase their output.
Saudi Arabia and Russia "will be pitted against the likes of Iraq, Iran and Venezuela. The latter countries need every petro dollar they can put their hands on for political and economic reasons, and the U.S. withdrawal from the Iranian nuclear agreement adds spice to Iran's resistance in increasing production," said Tamas Varga, analyst at PVM Oil Associates, in a note.
In other energy products, July gasoline RBN8, +2.92%  shed nearly 0.6% to $2.012 a gallon, while July heating oil HON8, +2.75%  lost 1.8% to $2.07 a gallon.
Natural-gas prices, meanwhile, pared some of their earlier gains after the The U.S. Energy Information Administration reported Thursday that domestic supplies of the fuel rose by 91 billion cubic feet for the week ended June 15. Analysts polled by S&P Global Platts had forecast a climb of 85 billion cubic feet.
July natural gas NGN18, -1.08%  climbed 0.4% to $2.975 per million British thermal units. It was trading at $3 just before the data.
Source: Market Watch, June 21, 2018 , By MYRAP. SAEFONG & SARASJOLIN
https://www.marketwatch.com/story/oil-prices-slump-as-opec-appears-closer-to-deal-on-higher-output-2018-06-21