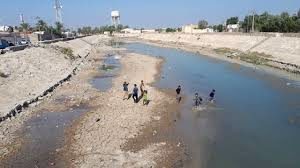 While the very earliest civilizations in Iraq grew up around the gifts of the Tigris and Euphrates, millions of Iraqis from the North to the newly revived southern Marshes are at risk from the actions of Iraq's northern and astern neighbors. Turkey and Iran's increased limiting of water of the Tigris and its tributaries flowing into Iraq has finally caused the country to reach its boiling point.
Who Controls Iraq's Water?
Last month, Turkey and Iran cut off water flowing into Iraq via the Tigris under the pretext of filling up their own dams. According to domestic media, this water reduction in Iraqi Kurdistan led to the death of fish in the downstream areas of the river, causing a serious environmental disaster. Meanwhile, local media posted dramatic videos of people crossing the Tigris by foot, emphasizing the drastic water loss in the river.
This footage prompted immediate reactions, fears, and concerns among both Iraqi officials and citizens, especially given that in the past two decades, the volume of water flowing through the Tigris and the Euphrates had already dropped by sixty percent.
In response to Turkish actions, Iraqi Prime Minister Haider al-Abadi claimed that the Ankara government was using the dam project for political gains to the detriment of Iraq, where irrigation capabilities have become limited throughout the country. "The whole issue is political and electoral, and Turkey is trying to use it to win the votes of its farmers," Abadi asserted, referencing last month's early parliamentary and presidential elections in Turkey. The Prime Minister added that, "The Turkish government intentionally filled the dam's basin… [even after] we had asked them not to." Turkish President Tayyip Erdogan's flippant response was that he had informed Iraqi leadership of the reduction of water a decade ago, stating that "Iraqi leaders have no ears."
Saadullah Masoudian, the Iranian Consul General to Sulaimani, has also accused Baghdad of negligence in addressing the issue of shared water sources. "Since 2017 several times we asked the Iraqi government to establish a commission for signing a contract with Iran regarding how to use Sirwan and Little Zab rivers. We also ask the Kurdistan Regional Government (KRG) to ask the Iraqi government to establish a commission to talk and decide on how to use the two cross-border rivers of Sirwan and Little Zab," claimed Masoudian.
Given that the Tigris flows from Turkey and goes through the heart of Iraq, all the intensive diplomatic efforts by Baghdad have so far focused on Ankara. A temporary halt was put on the crisis when Turkey agreed to be patient in filling up its dam. Turkish Ambassador to Iraq Fatih Yildiz said in a June 5 press conference in Baghdad that his country would release "sufficient quantities of water" for the time being.
In the following days, further negotiations, coupled with public anger of Iraqis on social media, including #BoycottTurkishProducts, may have further convinced Turkey to give a temporary reprieve to Bagdhad. On June 7, Yildiz announced via his Twitter account that Turkey had suspended filling up Ilisu reservoir. "As of this moment, Tigris waters are being transferred to Iraq without touching a drop of it in Ilisu," Yildiz said. "With the second decision to postpone, we have shown once again that we can put our neighbor's needs ahead of our own." Later Iraq Water Resources Minister Hassan al-Janabi reaffirmed that a deal had been reached with Turkey to protect Iraq's interests.
Despite a subsequent June deal with Turkey to delay the filling of its Ilisu reservoir, the consequences of Turkish intentions to move forward with the Ilisu dam could be catastrophic for Iraq in the long run. Upstream, Turkey's Ilisu dam submerges one of the world's oldest civilization: 12,000-year-old Hasankeyf in the Kurdish part of Turkey; downstream, it could lead to the elimination of Mesopotamian civilizations—including the newly reconstructed "Garden of Eden" in Iraq—forceful migrations, extinction of animals and quicker desertification, thereby rocking the social fabric of Iraqi society and fueling something that Iraq has no shortage of—internal conflicts.
Water Shortages Increase Internal Tensions
Water scarcity has exacerbated one of Iraq's most intractable issues: its lack of central authority and rule of law due to a recent increase in the tribalization of Iraqi society. Coherence and cohesion of tribes and clan lines have been consolidated in post-2003 Iraq as a way of self-defense and protection, and clashes over water have pushed latent conflicts between tribes into the open even before the June water crisis. The recent protests in Basra, while also reflecting the city's lack of access to electricity, demonstrate the social erosion that an absence of vital resources such as water invites.
To tackle water shortages, the Iraqi government has taken some unpopular domestic measures with direct financial effects on the livelihood of the Iraqi farmers, limiting the planting of rice and other crops in order to save water. Farmers responded by protesting the government's removal of their only source of revenues, raising the question of whether the state can only make domestic changes to water use, or whether it can convince its neighbors to allow more water into Iraq on a permanent basis.
The reality is that the Iraqi government is in a weak bargaining position vis-à-vis regional powers Iran and Turkey. The country has leapt from crisis to crisis, struggling with ineffective governments and social breakdowns along ethno-sectarian fault lines. These internal issues have allowed Ankara and Tehran to prioritize their own water interests without any effective opposition from Baghdad. Moreover, Iraq's weak military and diplomatic status gives little incentive for either state to negotiate with Baghdad.
However, Iraq's more distant history demonstrates that it can successfully maneuver against regional dam projects. Earlier regimes relied on the state's wealth of oil resources as a bargaining chip to force Turkey to adjust its water policies. In response to Turkey's two World Bank-sponsored dam plans on the Euphrates in the 1970s, Iraq halted oil exports to its northern neighbor and insisted that Ankara pay its current oil debts of $330 million in November 1977. Oil exports resumed only after Ankara reassured Baghdad of adequate water release. Then Turkey received two-thirds of its oil from Iraq. But the situation is quite different now.
Although Iraq remains Turkey's top oil exporter, most of it comes from the Iraqi Kurdistan Region, which has forged strong economic, trade, and energy ties with Ankara worth billions of dollars. If Iraq were to ever consider using oil as a tool of diplomacy, it must first go through Erbil—a currently unlikely scenario given the mistrust between the Kurdistan Regional Government (KRG) and Baghdad, especially after the use of military forces against Kurdish forces in Kirkuk in October of last year. Moreover, outstanding oil, budget, and territorial issues between the Kurdistan Region and Iraq stand in the face of the type of close cooperation needed to pressure Turkey. This is to say nothing of Iran.
This time around, Iraq must use strategy to make up for its more limited bargaining ability, applying a multi-pronged plan on the national, regional and international level. On the national side, the government must reach permanent terms with the KRG on oil, gas, budget, and territorial issues that have prevented Iraq from being able to implement this key diplomatic tool, in particular with Turkey. On the regional level, Baghdad needs a proactive, enhanced diplomacy that extends past and beyond the state's electoral issues by forming multilateral committees expressly designed to manage water resources and promote bilateral cooperation with neighboring countries. Finally, on the international level, Iraq should provide more focused requests to international and regional institutions to put pressure on Tehran and Ankara to secure the country's fair share of water.
If the Iraqi government can put aside its differences and present a united and sustained front on this issue, perhaps Turkey and Iran will recognize that Iraq's social and political stability is in both countries' interests. As the case of the Islamic State has shown, when Iraq faces instability, it will not be contained within its borders and will spill into the region at large.
(*)      Yerevan Saeed is a Research Associate at Middle East Research Institute. He is a Ph.D. student at the School for Conflict Analysis and Resolution (S-CAR), George Mason. He previously served as White House Correspondent for Kurdish Rudaw TV, and has worked for news agencies including the New York Times, NPR, the Wall Street Journal, the Boston Globe, the BBC and the Guardian as a journalist and translator.
Source: The Washington Institute for Middle East Policy, July 19, 2018
https://www.washingtoninstitute.org/fikraforum/view/iraq-faces-its-next-crisis-water