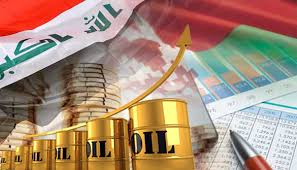 The energy consultancy says around 1.1 million bpd of supply from neighbouring Iran will be lost to the market due to US sanctions
Iraq, the fourth-largest oil producer in the world, is working towards raising output capacity to 6.5 million bpd by 2022. Reuters
Iraq, the second-largest producer within Opec, could raise production capacity by one million barrels per day in ten years buoyed by healthy momentum in upstream activity, according to energy consultancy Wood Mackenzie.
"Looking at everything on a project-by-project basis, looking at FIDs [final investment decisions], [we're] very positive on growth for Iraq … by a million barrels per day (bpd) from 2017 to 2025. It's over 10 years, but it's relative," said Ann-Louise Hittle, vice president of macro oils, at Wood Mackenzie.
The forecast by the Edinburgh-headquartered firm is conservative compared with Iraq's own ambitions to raise production capacity. The federal Iraqi oil ministry has set aside a target of raising production capacity to 6.5 million bpd by 2022. The country produced 4.65 million bpd in September, according to the latest figures released by Opec.
Outgoing Iraqi oil minister Jabbar Al Luaibi had said earlier this year that the country was confident of breaching its desired five million bpd target this year. Iraq accounts for 8.8 per cent of proven reserves of oil worldwide, much of it is cheap, and easily extractible. However, its upstream sector has been crippled by decades of war, which forced a brain drain of talented engineers, and also led to a shutdown of refineries.
With a new Iraqi government in place, and the defeat of the Islamic State, which had taken over key fields and refineries, the government is now moving towards rehabilitating the country's energy and power sector, including reducing the flaring of gas from its southern-oil fields.
The Iraqi government has begun to invite interest in its oil field development schemes, notably tendering a few blocks earlier this year. It also signed a two-year contract in April with China's Anton Oilfield Services and London-based Petrofac to operate its giant Majnoon field, which it took over after Anglo-Dutch major Shell's exit from the project.
The ministry also said it aimed to boost its light crude exports to a million bpd next year, even as it presses for waivers from US sanctions against its neighbour and ally Iran, with whom Baghdad had entered into an agreement to truck oil from its fields at Kirkuk.
Iraq's plans for waivers and production capacity boost come amid an anticipated decline in supply from Iran, which is struggling to get its oil to market prior to the imposition of sanctions by the US administration on November 4.
Wood Mackenzie estimates that 1.1 million bpd of Iranian oil is likely to be lost to the markets.
"We're looking at fall from 3.8 to 2.7 million bpd from the spring to November," said Ms Hittle. "China is going to be in the range of 500,000 bpd. We're looking at continuation of exports to Turkey, exports to India on a reduced basis of 150,000 bpd. Crude will go to Syria, maybe 50,000 bpd and condensate exports will continue at a cargo-by-cargo basis at about 10,000 bpd."
WoodMackenzie however anticipates condensate exports to hold steady due to the start-up of a couple of condensate splitters in Iran.
"One has started up already and it's going to ramp up once we go into the next year and help absorb the condensate that's spilling out of South Pars," she said.
South Pars is the world's largest gas field and is shared with Qatar, which refers to the concession as North Dome.
Source: The National,  October 30, 2018
https://www.thenational.ae/business/energy/iraq-could-raise-output-capacity-by-1-million-bpd-in-10-years-says-wood-mackenzie-1.786112