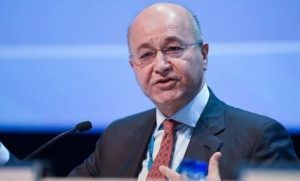 CAIRO – 15 March 2019: Upon a visit by a delegation from Saudi Arabia that aimed at boosting ties with Iraq, President Barham Saleh underlined Iraq's keenness to bring the views of the countries of the region closer in order to achieve stability and avoid conflicts.
Saleh made his remarks as he met with the Saudi delegation, headed by Minister of Trade and Investment Majid al-Qasabi, in Baghdad on Thursday.
"Iraq seeks to create a system of common economic interests with the Kingdom and the countries of the region in general," a statement by the Iraqi presidential office said, adding that Baghdad was looking to be a "platform… for the achievement of prosperity and progress for the peoples of the region."
Iraq's top Shia cleric has urged Iranian President Hassan Rouhani to respect the Iraqi sovereignty and weapons kept in state hands, referring to the increasingly influence of the Iran-backed militias.
Last year, the Iran Militia in Iraq and Syria (IMIS), which played a key role in defeating ISIS in 2017, were brought formally into the security forces.
Meanwhile, Iraqi Prime Minister Adel Abdul Mahdi called for the establishment of the best relations with Saudi Arabia, pointing out that Iraq attaches strategic importance to the relationship with the Kingdom.
In a statement, he also stressed his intention to "further expand bilateral relations by signing important agreements" during his imminent visit to Saudi Arabia.
The two sides discussed "preparations for the Iraqi-Saudi joint committee, where the Saudi delegation expressed the Kingdom's readiness for cooperation in economy, oil and electricity linkage and its participation in reconstruction efforts of Iraq.
Furthermore, Iraqi Parliament Speaker Mohamed al-Halbousi welcomed the visit and expressed the legislative authority's "determination to provide all forms of support, to promote the investment sector, and overcome the obstacles to development."
President Abdel Fatah al-Sisi received Saleh last month as they discussed Arab and regional affairs of mutual interest and agreed to intensify coordination.
Source: Egypt Today staff, Mar. 15, 2019
http://www.egypttoday.com/Article/2/67086/Iraqi-President-commends-boosting-ties-with-Saudi-Arabia