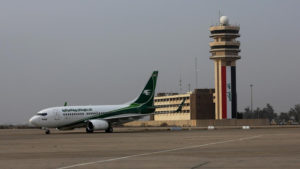 The Iraqi Transport Ministry has signed a long-term agreement with Lufthansa Consulting, the consultancy division of Germany's flag-carrier, in an effort to restructure Iraqi Airways after its ignominious blacklisting from European airspace.
Lufthansa Consulting announced the "long-term strategic advisory and implementation project" last week, pledging to make Iraqi Airways a "leading carrier in the Middle East" while also improving oversight capabilities at the Iraqi Civil Aviation Authority (ICAA), the country's aviation regulator.
The European Commission banned Iraqi Airways from entering its airspace in December 2015, after Brussels identified "unaddressed safety concerns" about both the airline and its regulator.
"Lufthansa Consulting is proud to be chosen as an implementer and strategic adviser to the Iraqi Minister of Transport with a view to modernizing the aviation industry," said Andreas Jahnke, the firm's managing director.
"With our international expertise acquired over 40 years as an aviation consultancy, and our commitment to integrity and compliance with international standards, we are well equipped to support the Iraqi authorities and institutions in enhancing the situation in the interests of the people of Iraq."
Iraq's Transport Minister, Kadhum Finjan Al-Hamami, also welcomed the contract, saying that it "reflects the continuity of a long-lasting relationship between Iraq and Germany".
European ban
The status of the EU's ban on Iraqi Airways was thrown into question in August, when Baghdad falsely claimed that "very advanced" progress has been made in removing the restrictions. It cited the resumption of flights to Europe that month with an Airbus A320 owned by Iraqi Airways as proof that the ban was being rolled back.
However, the aircraft in question (registration YI-ARB) is only allowed to enter European airspace because of a convoluted double-leasing agreement that shifts responsibility for operating, maintaining and overseeing the machine to a foreign carrier. Turkey's AtlasGlobal appears to have leased YI-ARB from Iraqi Airways, before sub-leasing it back to the flag-carrier under a secondary wet-lease agreement – whereby the Turkish operator provides aircraft, crew, maintenance and insurance.
"Iraqi Airways does not have permission to serve European airspace with their own planes," the Danish Transport and Construction Agency confirmed to Al Arabiya. "The company has permission to wet-lease AirExplore of Slovakia and AtlasJet of Turkey – doing business as AtlasGlobal – to perform flights between Iraq and Denmark."
AirExplore began operating wet-lease flights on behalf of Iraqi Airways in 2015, shortly after the flag-carrier was denied Third Country Operator (TCO) status by the European Aviation Safety Agency (EASA) – a precursor to the formal blacklisting.
Instead of leasing in and sub-leasing out Iraqi metal, Air Explore re-painted one of its own Boeing 737-800s (registration OM-HEX) in a simplified version of the flag-carrier's green livery. It is not clear whether the partnership is still active as the airframe has temporarily been placed with TUI Airlines Nederland, a Dutch charter operator.
Another wet-lease specialist, Dubai's Aerovista, also provided Iraqi Airways with an A320 (registration SX-BDS) for European flights last year. That aircraft is no longer operated on behalf of the flag-carrier.
Safety failings
Last year's TCO rejection was announced after Baghdad missed several deadlines for submitting essential safety documentation to EASA, prompting the regulator to conclude that quality-management systems in Iraq were failing.
"The information provided by Iraqi Airways was not sufficient in nature to fully address the safety concerns [that earlier led] EASA to refuse the TCO authorization," Brussels said of its decision to proceed with formal blacklisting in December.
Iraq's flag-carrier started rebuilding its European network in March 2013, ending more than two decades of isolation under Saddam Hussein-era sanctions and the US-led occupation of Iraq. Its inaugural flight from Baghdad to London Gatwick Airport (served with a security stop in Malmo) was swiftly followed by route launches to Manchester, Berlin, Frankfurt, Dusseldorf, Stockholm, Copenhagen and Vienna – all flown by Iraqi pilots and aircraft.
Outbound services were operated from Najaf, Erbil and Sulaymaniyah, as well as Baghdad.
At the time of writing, scheduling data from Flightglobal Innovata indicates that Iraqi Airways is still marketing flights to the three German cities, plus London, Malmo and Copenhagen.
The airline does not specify which of its wet-lease partners operate which particular routes.
Lufthansa Consulting has had a presence in Iraq since 2008, securing contracts for various airport and airline projects during the country's post-war reconstruction. Its new agreement with the Transport Ministry also encompasses unspecified work at Baghdad International Airport, the country's main hub and home base of Iraqi Airways.
Source:  Al Arabiya English, Thursday, 17 November 2016
http://english.alarabiya.net/en/business/economy/2016/11/17/Iraqi-Airways-taps-German-expertise-in-bid-to-overturn-EU-blacklisting.html