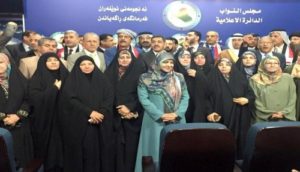 Key Takeaway: Iraq's Federal Court will issue an important ruling on May 25 that could have a major impact on the political crisis.  The issues at stake are the legitimacy of Prime Minister Haidar al-Abadi's ministerial appointments and the speakership of the Council of Representatives.
Former Prime Minister Nouri al-Maliki is a driver of the political party that has raised the legal challenges. Iraq has been experiencing a political crisis since April 12, and protesters have stormed the Green Zone twice since April 30. They were followers of Shi'a cleric Muqtada al-Sadr, who has been trying to channel a populist protest movement that has been underway since August.
One main issue at stake is the composition of the Cabinet. Sadr and Prime Minister Abadi are not close allies, but they both have sought to replace political party elites with technocratic ministers. Their chief opponent has been Nouri al-Maliki, the former Prime Minister and a rival of both.
The appointment of ministers requires approval of Iraq's parliament, the Council of Representatives (CoR). The body had fractured on April 12, when a group of members staged an overnight sit-in against Prime Minister Abadi's slate and the conduct of the Council of Representatives under Speaker Salim al-Juburi.  The group consisted of parliamentarians from many political parties and ultimately claimed a false quorum and enacted legislation.
This rump parliament lasted for two weeks, but then disbanded. Some of its members formed a political bloc, called the Reform Front, and launched a legal case to try to preserve some of their rump parliamentary decisions and block some of the ministerial changes underway.
The Reform Front is struggling for legitimacy as a legal entity and political power. The crux of the bloc's legitimacy and its future in the political process has been relegated to the Federal Court to decide. The Federal Court, under longtime Maliki-ally Chief Justice Medhat al-Mahmoud, announced it will hold the first session on May 25 regarding the legitimacy of the legislation passed by the rump CoR on April 14 and the ministerial changes enacted by Prime Minister Abadi on April 26.
The Federal Court's ruling could change the composition and leadership of the Council of Representatives and influence the momentum of Abadi's reforms.
Source: Institute for the Study of War (ISW). 25 May 2016
http://campaign.r20.constantcontact.com/render?m=1114968673436&ca=97bd847b-2c12-40fc-bab6-eba805a22a0c
The Institute for the Study of War (ISW) is a non-partisan, non-profit, public policy research organization. ISW advances an informed understanding of military affairs through reliable research, trusted analysis, and innovative education. We are committed to improving the nation's ability to execute military operations and respond to emerging threats in order to achieve U.S. strategic objectives. Visit us at www.understandingwar.org.